Kowloon Park
in Tsim Sha Tsui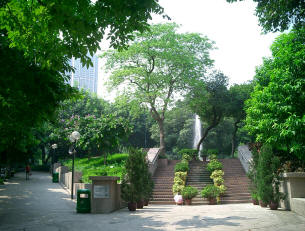 It comes as a surprise to some visitors to Hong Kong that the region has actually great green spaces in between and surrounding the built up areas. Even in built up commercial and business districts there are great parks, on Hong Kong Island the Victoria Park is the lung of the city, while in Kowloon there are several parks but the most important to Tsim Sha Tsui is Kowloon Park.
The district is lucky to have this large green space due to an accident of history. The prime space right next to the busy Nathan Road was originally a British Army Barracks, from 1861 it was Whitfield Barracks and stayed a reserved space for over a hundred years.
Since the redevelopment in 1970 it has been a public park, Kowloon Park, and it has retained a few interesting souvenirs of it's days as an Army place including historic buildings including several buildings and a gun emplacements that previously looked out over Stonecutters Channel as part of the defense of Hong Kong has been turned into a children's playground.
Other facilities include a swimming pool, aviary (though this may be closed when there are Bird Flu fears), Maze Garden Sculpture Walk and Sculpture Garden.
The park is open every day from 6:30am until late in the evening.
It is mostly easily accessed via the entrance next to the Kowloon Mosque, on Nathan Road just next to the MTR.