Sightseeing
around Tsim Sha Tsui
Tsimshatsui is full of the most amazing sights, a range of tourist sights mean that a full Hong Kong experience can be had even without leaving the district. Being part of the original British territory of Hong Kong it contains a number of interesting colonial items including historic buildings and parks.
However it is the boom period of the 1950s and 60s which lead to the most rapid development of the area and cemented its reputation as a tourist destination for world travellers. Today the steady addition of new sightseeing attractions continues with everything from world-class museums to open public walkways with outstanding views.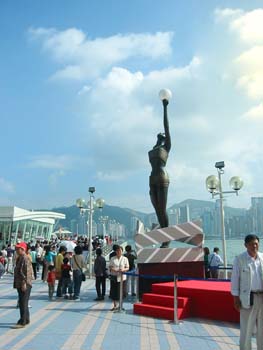 Iconic Sights
The Avenue of the Stars on TST Promenade
Culture
Cultural Centre and Museum of Art - Right on the waterfront overlook the harbour, these two buildings highlight what is most impressive about Hong Kong arts and culture.
Chinese Arts & Crafts - located in Star House near the Star Ferry this is the original place to shop for valuable Chinese arts and crafts.
Shopping
Some of the main locations for shopping are:
Granville Road
1881 Heritage
Nathan Road
See more details of shopping on TST here.
History
Museum of History - one of several great museums of Hong Kong.
The Clock Tower of the old Kowloon Canton Railway Station
Parks